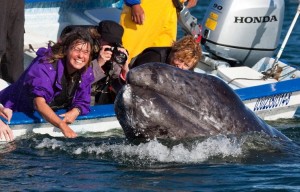 Join our 12-day tour to whalewatch for up to a dozen different species: gray, blue, fin, sperm, and humpback whales, and several kinds of dolphins along the Pacific side of Baja California, plus an extension into the rich waters of the Sea of Cortez where even more whales and wildlife are abundant. Explore offshore islands for birding and photography and snorkel with tropical reef fish.
"
"
I just wanted to thank you and all the crew for the most amazing trip, from hummingbirds to blue whales, sand dollars and moments with sea lions. One of the pleasures was everybody's clear delight in all the wildlife which went beyond just being a "job" and to the seamless, smooth organisation that went into our day-to-day activities, not to mention the very obvious care from Art to keep us safe! Thank you so much, it was an honour to be allowed such close contact with all the wildlife.
—Lynn Barwood, UK, March, 2013
"
"
Hooray to all! A fantastic trip in all respects. I appreciate the almost-always low-key, respectful way a considerable amount of control is exercised to keep everyone safe, well-informed and entertained!
—February, 2014
Brian Leadbitter and the friendly whales in February, 2014

Special thanks to Lee Morgan for allowing us underwater with a gray whale.

See the best of Baja
See more images from past trips in the
Gallery