SEE THE BEST OF BAJA! Join our 12-day tour to whalewatch for up to a dozen different species: gray, blue, fin, sperm, and humpback whales, and several kinds of dolphins along the Pacific side of Baja California, plus an extension into the rich
waters of the Sea of Cortez where even more whales and wildlife are abundant. Explore offshore islands for birding and photography and snorkel with tropical reef fish. (Photos: Lee Morgan, Tom Blackman, Chris Shields, Ilka Serpell, Rich Crossen, John Davison, Charles Howell & Rob Nawojchik.)
It has been an absolute pleasure sailing on such a well-managed, clean vessel with the most knowledgeable and hard-working Captain Art and crew. I appreciate all your efforts to give us the best possible sightings on this trip!
—January, 2015
An Experience You'll Never Forget
Typical Searcher Baja Whalewatching Trip Route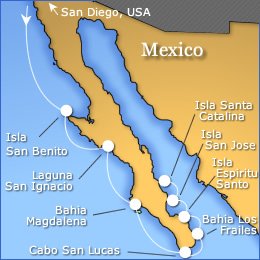 Departing from: San Diego, USA
Arriving in: Cabo San Lucas, MX
Sailing to: • Ensenada • Islas Todos Santos • Islas San Benito • Laguna San Ignacio • Bahia Magdalena • Bahia Los Frailes • Isla Espiritu Santo • Isla Santa Catalina • Cabo San Lucas
Our 12-day natural history tour treats you to the Best of Baja! Cruise the entire Pacific coast of the Baja California peninsula, stopping for two days with the friendly gray whales of Laguna San Ignacio, and anchoring at a Pacific island to photograph elephant seals, osprey and blooming cactus. Continuing south we spend time in the offshore areas of Bahia Magdalena where whales, sea turtles, and a wide assortment of pelagic birds can be found.
After rounding the peninsula at Cabo San Lucas and observing humpback whales, the boat motors to a variety of islands in the southern Sea of Cortez. We make landfalls for hiking, birding, photography and seeking out unique plants and land animals at each. Activities include snorkeling with sea lions, photographing the largest cactus in the world, seeking unique reptile and bird life, walking in scenic arroyos, swimming in coves and over reefs, touring through mangrove estuaries, and covering territory in these productive areas for many whales–large and small.
Your tour ends in Cabo San Lucas for your flight home or an extension in beautiful and relaxing San Jose del Cabo.
Hooray to all! A fantastic trip in all respects. I appreciate the almost-always low-key, respectful way a considerable amount of control is exercised to keep everyone safe, well-informed and entertained!
—February, 2014