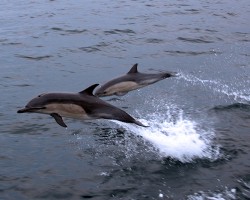 Hello whalewatchers,
Well, we are certainly living right! We expected to have good weather for the morning and then possibly have some more wind in the afternoon. Not only did we get great weather this morning, but this afternoon it is even better, with the sea glassing off completely and the swell diminishing to where the boat is barely moving. We are liking it!
We had a great walk this morning at Bahia Tambobiche with good birding. We left there to look for whales and we saw a pair of blue whales not too far from there. We had excellent looks at these whales with perfect lighting and we were able to keep track of them so everyone had a good look. We stayed for over two hours and then we left to look for something different.
We came across a big herd of common dolphin that gave us a great show. There were at least 1000 dolphin in the herd. We left them in search of something different and we found an area of birds feedin,g with balls of krill on the surface and then two Bryde's whales showed up. We had a great show with Brydes whales feeding on the balls of krill and small bait fish. It was spectacular!
Headed to Isla Santa Catalina tonight for another calm spot and a good night's rest.
Looking forward to tomorrow,
Capt Art
p.s. Thanks to Chef Charles for the dolphin photo!