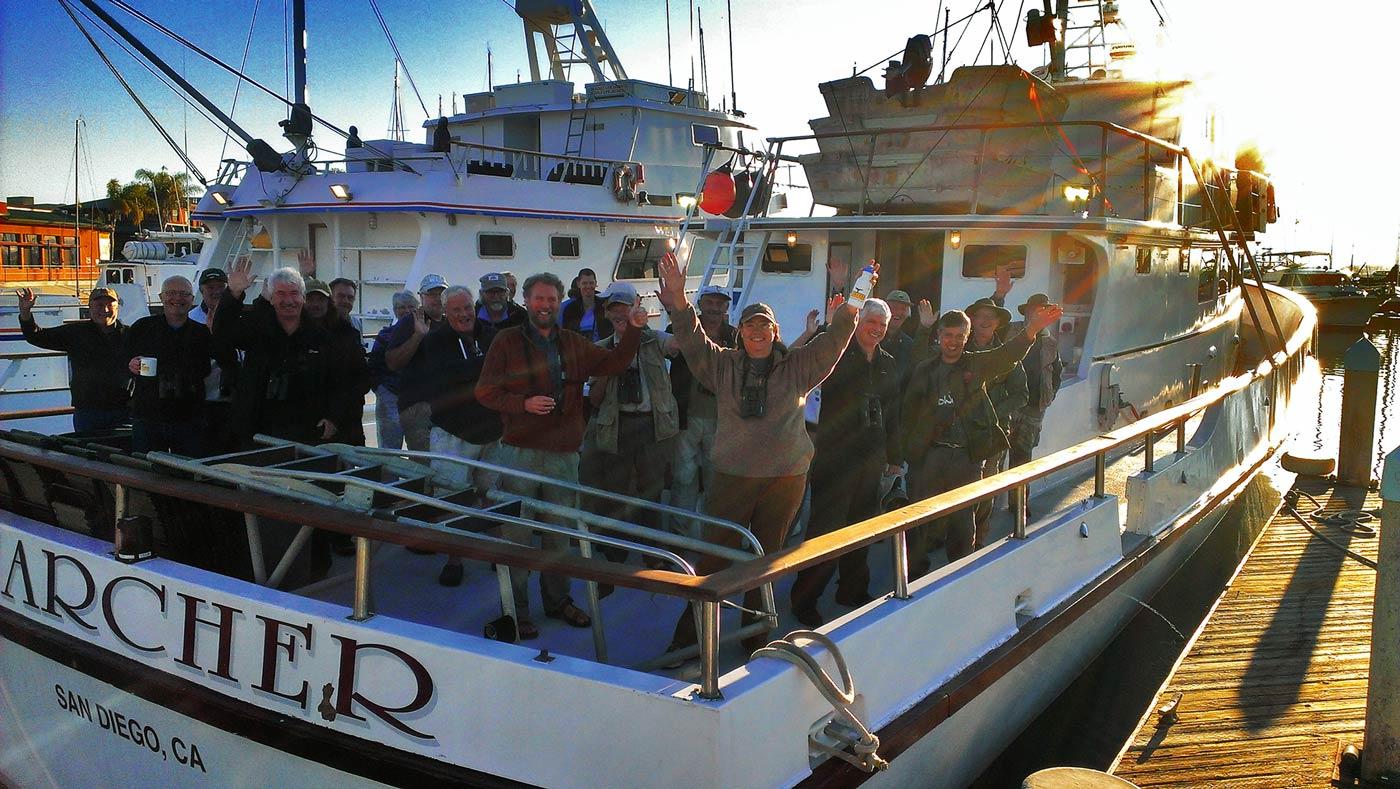 On a Searcher Natural History Tour, wildlife plays the starring role!
However many guests appreciate our excellent customer service and safe and friendly atmosphere.
Customer Comments
I was impressed with the attention paid to safety, and that the crew knew the animals and birds so well. Thank you for a great experience!
—Sherry Schmidt, California, January, 2015
Friendly and welcoming crew who did everything to make our trip one of the most enjoyable we have experienced.
—Richard and Sue Doran, UK, February, 2015
Great trip! The crew was fantastic, the whales were awesome, and I can't stop smiling!
—Tom Base, Oregon, USA, January 2015
It has been an absolute pleasure sailing on such a well-managed, clean vessel with the most knowledgeable and hard-working Captain Art and crew. I appreciate all your efforts to give us the best possible sightings on this trip!
—January, 2015
An awesome experience! Could not have been better. Super crew and guides. Worth every penny. I hope to do this again sometime. I saw both my target birds!
—Pelagic Birding Tour, September 2013
First-class trip--could not have been better. Wonderful crew and fantastic food. Exceeded expectations. Hope to return for more!
—February, 2015
Brilliant trip! Atmosphere on board is fantastic. Crew are attentive, vigilant about safety, knowledge and fun food--Wow! The wildlife viewing is done with such skill and respect, could not have been any better. Thanks!
—February, 2015
You and your crew went out of your way to give us an unforgettable holiday. Thank you so much for your care and enthusiasm.
—February, 2015
This trip was absolutely wonderful! Crew outstanding! Food excellent! Capt finding all the whale and dolphin hot spots all the while looking our for our safety and comfort.
—Janet Tice, Pennsylvania, January 2014
A fabulous tour! Perfection all the way!
—Rob and Payal Montague, England, January 2014
Hooray to all! A fantastic trip in all respects. I appreciate the almost-always low-key, respectful way a considerable amount of control is exercised to keep everyone safe, well-informed and entertained!
—February, 2014
One of the best holidays we have had--every day was unforgettable and special. A massive thanks!
—Jon and Jane Sidwick, England, February 2014
There are truly no words to describe the adventure you all facilitated. A trip of a lifetime and memories forever. Our privledge to be aboard!
—Tom and Judy Arkwright, Michigan, February 2014
We feel truly honored to experience the many unique encounters. Charles and Geri-Sue performed feats of magic in the galley to produce amazing meals. Marc and Paul are gems, educating us and making us laugh. Last, but not least, the crew made us feel safe and at home. We are already thinking about trip #3!
—Larry and Sue Schott, Canada, February 2014
Captain Art is a great role model for anyone in leadership-expects high quality and crew delivers it! Every day brought a new, spectacular adventure.
—Fran and Ken Zichal, Iowa, February 2014
The itinerary and daily programs were excellently executed. It was my type of trip--a massive focus of activities on wildlife. The excellent cooking was a bonus!
—February, 2015
This was a trip of a lifetime, but we very much hope we can come again!
—Pam and Peter, England, March, 2014
So many thanks for all the crew's expertise, care, and enthusiasm--all surpassing any expectation. A wonderful trip!
—England, March, 2014
It is a wonderful trip with memories we will cherish forever there are are few places like Baja left in the world. The
Searcher
will show you things you could never imagine.
—April, 2014
A superb holiday with wonderful life-changing experiences. Looked after expertly, with patience and good humor.
—April, 2014