Art Taylor
Searcher Owner & Captain
Art Taylor has owned Searcher since 1982 and has been guiding vessels in Baja's waters for over 30 years. He is intensely dedicated to the people and wildlife conservation of Baja California and receives immense enjoyment sharing that with his passengers.
Celia Condit
Searcher Owner & Office Manager
Celia Condit came to the tour-operator business through work as a naturalist aboard a variety of boats, all heading south to Baja's waters. She joined her husband Art in the venture of Searcher Natural History Tours and tends to the shore-based aspects of the business.
Aaron Remy
Searcher Captain
Captain Aaron Remy started aboard Searcher in 2002 and is a cornerstone of Team Searcher. Aaron is a natural as he pilots Searcher around the wildlife of southern California and Baja California.
Captain Art is a great role model for anyone in leadership-expects high quality and crew delivers it! Every day brought a new, spectacular adventure.
—Fran and Ken Zichal, Iowa, February 2014
Searcher crew gets you close to the action.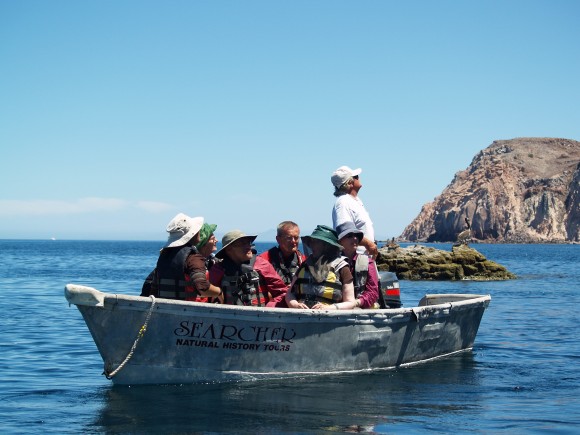 Our crew is specially selected for their knowledge of the Baja California waters and its inhabitants. They are licensed captains, experienced skiff operators, and trained in safety maneuvers. We hire a professional cooking team to prepare and serve meals that are often described as gourmet.
Chef Charles knows a great meal
Chef Charles Howell has been making delicious and healthy meals for hungry nature watchers for years aboard Searcher. Boeuf bourguignon while watching a blue whale in the Baja sunset? We've got tables with a view!
Searcher crew
---
Who are Searcher naturalists?
Two professional marine life naturalists will join you on your tour. Their backgrounds vary — researchers, rangers, science writers, biologists, university professors, and nature photographers.
What they share in common is that they are marine life experts, conversant in marine mammals, birds, habitats, and ecology and knowledgable about the little-visited islands and their unique blooming cacti, plants, reptiles, birds, and fishes and invertebrates in the snorkeling spots.But maybe most importantly, they are personable and eager to share their love of Baja's wild places with others.
In the evenings naturalists may show an illustrated program previewing the wildlife to be seen the next day and sharing insights on what was already seen.
You can be sure they are scouring the seas for marine life, identifying birds from the skiffs, hiking the trails, snorkeling the coves, combing the beach, sharing the best of Baja with you!