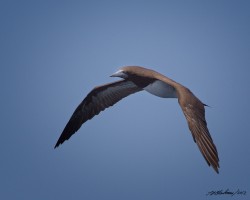 Hello all,
The final day of "Wildlife Weekend" has been great with calm seas and sunny skies. We had great viewing of pinnipeds at Islas  Los Coronados with all three species –harbor seals, Northern elephant seals and California sea lions. We had great looks at both types of oystercatchers, cormorants, brown pelicans with chicks, peregrine falcon, American kestrel, surf scoter and the highlight was the sighting of two pigeon guillemots not seen very often this far south.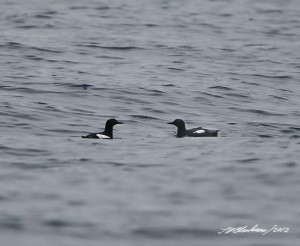 Pigeon Guillemots at Los Coronados. photo by Tom Blackman
We left the islands and saw shearwaters, Cassins auklets, Xantus murrelets and then we came upon a group of bottlenose dolphin feeding. We were able to stop in the middle of the group and listen to them vocalize through the hydrophone that we permanently installed in the hull. We are glad to know the hydrophone works in its new spot on the boat.
A little further north we came upon about 200 common dolphin. What a great way to end our trip! All in all a fantastic trip.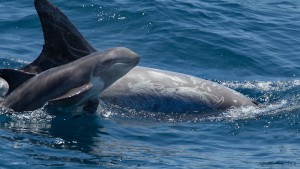 Tom Blackman's photo of adult Risso's dolphin with a calf jumping out of the water!
Thanks to all who joined us and those who've read along,
Capt Art