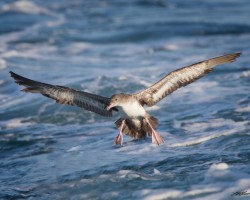 Hello whalewatchers,
We left the Coronados at 1:00 am and travelled west 40 miles to the San Clemente basin and then went north for 10 miles, staying in US waters. We started with several black storm petrels, sooty and pink-footed shearwaters and a fin whale. It didn't taske very long with the fish oil chum behind the boat to draw in a black-ooted albatross.
The weather continued to get better with very little wind and diminishing sea conditions. We went through an area where there were dark-rumped and light-rumped leachs storm petrels, along with black and an occasional ashy storm petrel as well.
We continued to see fin whales with a total for the day at 8 or 9 whales. Midday we came across a group of Rissos dolphin. In the group were a couple of breaching dolphin, and the highlight was two cow and calf pairs that allowed us to get very close to and follow for quite sometime.
After that we laid out a large chum slick and added Northern fulmar to the list and also two south polar skuas.
With great weather now–sunny skies and calm seas we continued east in US water the rest of the day and had plenty to look at. A few Xantus murrelets, and Cassins auklets were added to the list. Once we reached the 9-mile bank we came across a group of 10 bottlenose dolphins.
We are hopeful that on our way back to San Diego tomorrow we will end the trip with a big herd of dolphin.
We are spending a couple of hours at the Coronados in the morning to take a look at the pinnipeds and the brown boobies and maybe an oystercatcher or two.
More tomorrow,
Capt Art