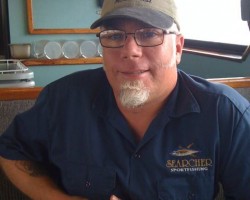 Meet Chef Charles Howell, who will whip up amazing meals during your Searcher Natural History Tour. Sure, he attended the California Culinary Academy in San Francisco and worked in many restaurants in San Diego, but Charles says he is most at home outdoors and on the ocean, keeping our guests well-fed with healthy food. Most people are amazed at what he can produce in a small galley.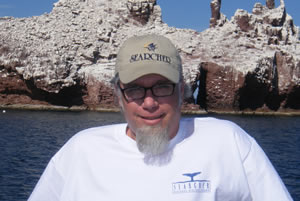 Charles is passionate about food and its preparation, but ask him about racing carts, eclectic music, or a variety of other subjects, and you'll find out just how well-rounded he is!
Charles wanted to share one popular recipe so you can bring your Searcher memories home.
Almond- and Sage-crusted Salmon with Red Pepper Coulis (serves 4)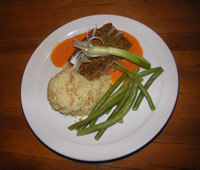 4 each 5-6 oz salmon fillets
3 each red peppers, seeded
Preheat oven to 350°F. Toast almonds until light brown, then cool. Put toasted almonds and sage in food processor and pulse until coarse crumbs. Add salt and pepper. Brush salmon fillets with olive oil and coat with crumbs. Place fillets in the oven and cook until the juices run clear (about 15-20 minutes).
In a medium saucepan, melt butter. Cut onions and peppers into large dice. Saute in butter about 1 minute.
Add wine, cumin and curry powder. Cook until soft and liquids are released. Put mixture in food processor and puree. Strain mixture through fine sieve. Keep warm.
To serve, put a small puddle of sauce on plate. Place salmon on top. Garnish with chopped green onions and serve with rice and seasonal veggies.